Live Aboard in Raja Ampat's archipelagoes
This trip will be on the Jakare, an elegant Indonesian style ship with traditional design and modern comfort. The fifteen hundred islands in the Raja Ampat archipelago are our paddling and snorkelling playground on our yacht-based trip. Using a traditional Indonesian style ship as our floating home, we travel in comfort as we cruise through the islands.
Air conditioned cabins with ensuites are perfect for a kayaking trip near the equator. We board our vessel in Sorong and paddle through the archipelago's incredible cays, islets, secret caves and hidden bays.
The marine biodiversity and rich coral reefs are among the finest in the world. We are one of the first to paddle in this area and there is also opportunity for divers to explore the underwater world as the ship is fully equipped for guests to go scuba diving.
Traditional villages, lush rainforest and exotic birdlife ensure unique experiences each day. Don't miss out on this extraordinary kayaking journey.
Grade
Easy to Moderate
This trip is suitable for active paddlers of all abilities
Dates
2023
26 Nov – 7 Dec (full).
10-19 Dec – 10 day trip.
2024
19-30 Jan, 3-14 Feb , 17-28 Nov- 12 day trips
Cost
10-19 Dec 2023 -10 days
From US$4800.00 per person
19-30 Jan, 3-14 Feb , 17-28 Nov 2024-12 days
From US$5500.00 per person
Trip costs are in US dollars. Cost depends on cabin chosen.
The Jakare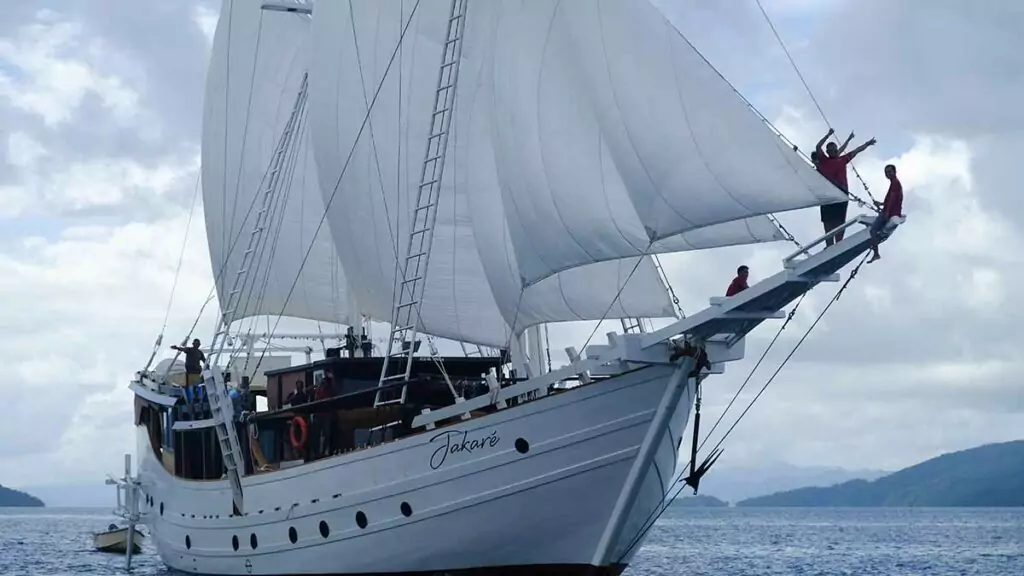 Includes
Accommodation and meals aboard ship, kayak guide, all paddling equipment and certified dive master on ship. Port transfers at the beginning and end of voyage from airport or hotel. *Note: Single and double kayaks available.
Excludes
Airfares, airport transfers, extensions, passport, visa, immigration fees, pre- and post-trip accommodation and transfers, alcohol and single supplements. Meals in Sorong not included. Dive package not included in the trip cost. Please advise the office on booking your trip if you'd like to scuba dive. PADI certification is required for any diving.
Day 1
Transfer from Sorong airport or hotel to ship. Depart Sorong and cruise to Misool Islands.
Day 2
Explore and kayak Wayil Island.
Day 3
Explore Segaf Island for fantastic paddling and snorkelling.
Day 4
Explore Balbulol island and surrounds.
Day 5
Kayak and explore Lenkafel island.
Days 6-8
Explore Thousand Temple islets of limestone islands.
Days 9-10
Paddle northern islands of Raja near Pef and Gam.
Day 11
Morning exploring Kabui Bay and last paddle before heading to Sorong.
Day 12
Morning arrival in Sorong. Trip concludes after breakfast.
Trip Enquiry
Contact our office to ensure that the trip you have selected is available. Or any other queries below.
Already Made up your mind?
Subscribe
to stay in the loop with new trips and exclusive offers
Kayak Journeys around the world