Oct 2024 – 19-day expedition cruise
Journey from Raja Ampat to Papua New Guinea, discovering the untamed beauty of Indonesia's tropical islands
Join us as part of an intimate, expert-led kayaking group on this 19-day expedition cruise to the diverse islands of Indonesia, culminating in the culturally rich Papua New Guinea. We are excited to present this opportunity in collaboration with Heritage Expeditions on board the Heritage Adventurer. Journey into the heart of these relatively untouched islands, home to some of the most distinctive species on Earth, and experience paddling through azure waters, exploring unspoiled beaches and uncovering wildlife-rich rainforests.
Indonesia's Remarkable biodiversity
Indonesia, an archipelago of over 18,000 islands, is renowned for its extraordinary biodiversity. Home to two of the planet's 25 biodiversity hotspots, its dense forests and clear, tropical waters support an impressive array of species, many of which are found nowhere else on Earth: From rare flowering plants to an array of bird species, the renowned Komodo dragon and majestic whale sharks.
Aboard the Heritage Adventurer
Our adventure commences aboard the comfortable and spacious Heritage Adventurer. Together, we will traverse powdery white-sand beaches, vibrant coral reefs and delve into the mysteries of islands scattered across Indonesia's pristine waters. From Bali to Madang, we'll have the unique opportunity to spot the iconic bird-of-paradise, engage with remote communities and discover remnants from World War II.
Dive into the Underwater Nirvana of Raja Ampat
Explore the mesmerizing Raja Ampat, celebrated for its technicolor corals and exotic marine life. This aquatic wonderland, once praised by Jacques Cousteau as an "underwater nirvana", promises to be an unforgettable part of our journey. As a part of our small, expert-led kayaking group, experience the tranquility of tropical environments, the thrill of navigating through sea caves and reefs. Become a source of fascination for the locals who often paddle their dug-out canoes to join us, and invite us back to their villages.
Immerse yourself in the untamed beauty of Indonesia's tropical islands
Grade
Easy – Moderate
This trip is suitable for active individuals with a thirst for adventure. The kayaking option suits paddlers with some kayak experience.
Cost
From AU$19,350.00 per person
*Prices above are exclusive of optional activity supplements.
*Final price will depend on cabin chosen.
Includes
Pre-cruise transfer, post cruise flight Port Moresby to Cairns, one night hotel accommodation in a twin share room (incl. dinner/ breakfast), all on board ship accommodation with meals, house beer, wine and soft drinks with lunch and dinner and all shore excursions and activities. Programme of lectures by noted naturalists.
If you choose the kayaking option and pay the kayaking surcharge, this will include all your paddling and kayak equipment and the services of a professional sea kayak guide throughout the duration of the voyage.
Excludes
All items of a personal nature, laundry, drinks, gratuities. International/domestic flights unless specified as included, visas, extensions and travel insurance.
Day 1
Meet your fellow explorers and guides at our welcoming dinner in Denpasar, Bali.
Day 2
Explore Denpasar before boarding the Heritage Adventurer in the afternoon.
Day 4
Komodo National Park
Day 5
Wakatopi National Park
Day 17
Thursday Island, Australia
Day 19
Port Moresby and flight to Cairns
---
What you'll see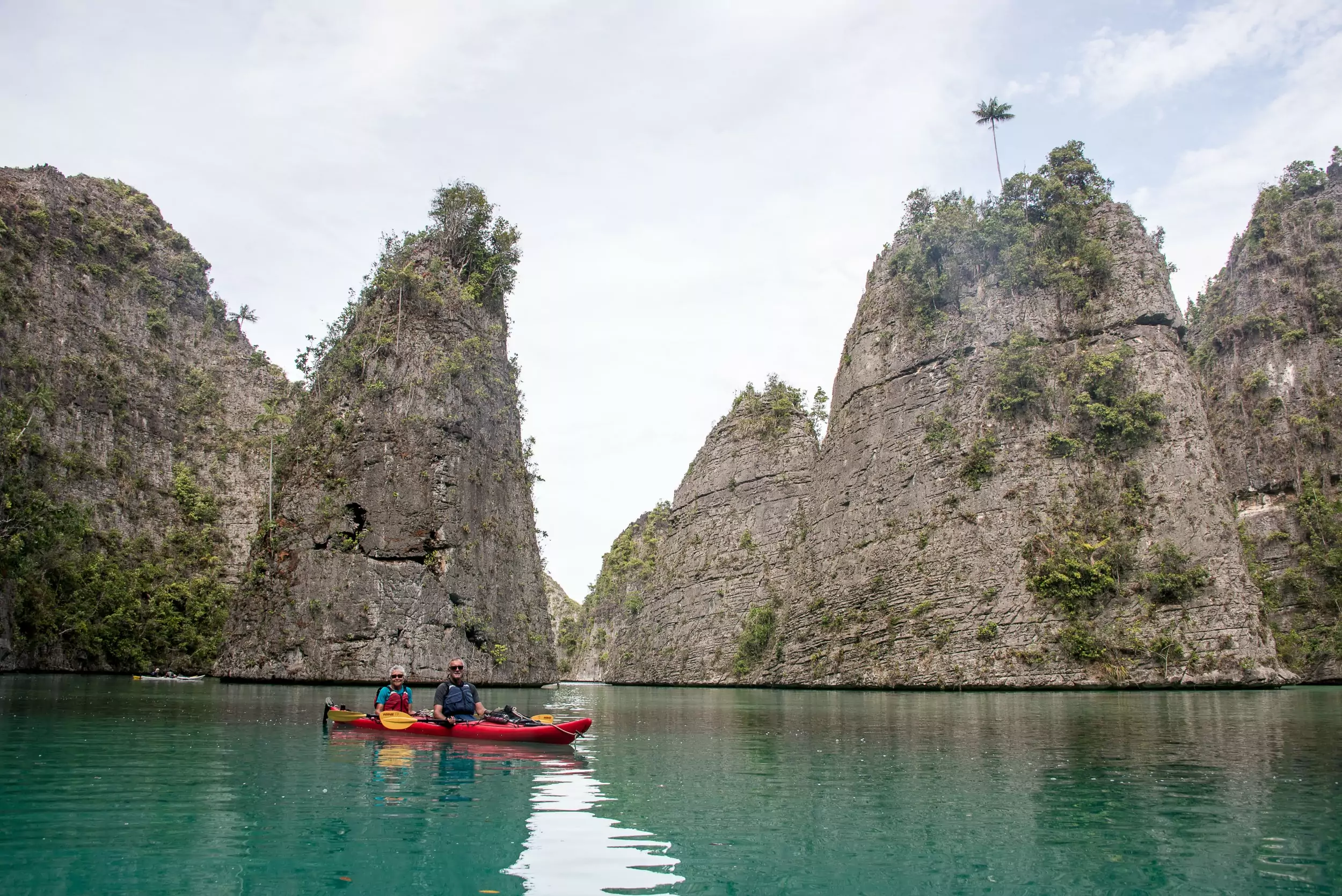 Trip Enquiry
Contact our office to ensure that the trip you have selected is available. Or any other queries below.
Already Made up your mind?
Subscribe
to stay in the loop with new trips and exclusive offers
Kayak Journeys around the world