discover the secrets of melanesia
Oct 2024 – 17-day expedition cruise
explore papua new guinea, solomon islands and vanuatu
Sail into a realm few ever witness, where time-honoured customs and vibrant dancers embrace visitors. This 17-day expedition cruise offers an exploration of the profound history, WWII landmarks, diverse cultures, and wildlife of Papua New Guinea, the Solomon Islands, and Vanuatu. Dive deep into the Trobriand Islands, famously dubbed the 'Islands of Love', where indigenous traditions remain untainted for countless eras. Marvel at the Louisiade Archipelago's coral-bound islands and the volcanic marvels of the D'Entrecasteaux Islands.
natural and cultural hidden gems
Embark on a journey through biodiverse wonders on the secluded Woodlark Island and spend a day unravelling the mysteries of Bougainville Island. Engage in captivating cultural interactions on Loh Island, participate in Malaita's Kwaio people's sacred dance, and witness the ancient Rom Dance on Ambrym Island. Dive into the South Pacific's conservation gem on Tetepare Island and snorkel in the vast Marovo Lagoon. Traverse villages on Malaita Island, where traditional shell-money holds significance, and dive into the cultural mosaic of Vanuatu, a nation with over 100 indigenous languages.
Aboard the Heritage Adventurer
Begin your journey from Cairns, the portal to the majestic Great Barrier Reef and the Wet Tropics Rainforest. Venture from this urban oasis to the dynamic core of Papua New Guinea, Port Moresby, a tapestry of traditional village and metropolitan vibes. Before embarking on the Heritage Adventurer, immerse yourself in the world-class primitive art collections at the National Museum and Arts Center. Navigate the waters of the Louisiade Archipelago, marveling at untouched reefs, tranquil lagoons, and the nautical heritage of the Dobu people. Experience historical relics like the Japanese A6M2 Zero, and encounter unique biodiversity, spotlighting species such as the Tagula Honeyeater.
underwater wonderland
Melanesia's breathtaking reefs teem with countless fish species and vibrantly-hued coral gardens. These waters, abundant in marine diversity, present unrivalled snorkelling experiences. Dive in and be captivated by the ocean's resplendent beauty, whether you're swimming or snorkelling. Bird enthusiasts can revel in rare species sightings on untouched islands, with prospects of observing the Solomon Sea Eagle or the Vanikoro White-eye. Join a sea kayaking adventure led by experts, navigating peaceful tropical landscapes that enchant local villagers, who often invite guests into their communities.
Uncharted Beauty, Ancient Cultures and Wild Wonders Await
Grade
Easy – Moderate
This trip is suitable for active individuals with a thirst for adventure. The kayaking option suits paddlers with some kayak experience.
Dates
2024
30 October – 15 November
Cost
From AU$17,250.00 per person
*Prices above are exclusive of optional activity supplements.
*Final price will depend on cabin chosen.
Includes
Discovery fund, one night hotel accommodation in a twin share room (incl. dinner/breakfast), pre voyage flight Cairns to Port Moresby, post cruise transfers, all on board ship accommodation with meals, house beer, wine and soft drinks with lunch and dinner and all shore excursions and activities. Programme of lectures by noted naturalists.
If you choose the kayaking option and pay the kayaking surcharge, this will include all your paddling and kayak equipment and the services of a professional sea kayak guide throughout the duration of the voyage.
Excludes
All items of a personal nature, laundry, drinks, gratuities. International/domestic flights unless specified above, visas, and travel insurance.
Day 1
Arrive in Cairns, the gateway to the Great Barrier Reef and rainforest, and meet fellow adventurers over dinner at the hotel.
Day 2
Fly to Papua New Guinea's capital, explore the National Museum and Arts Center, and board the Heritage Adventurer, meeting the captain and crew.
Days 3-4
Explore the untouched islands and reefs of the Louisiade Archipelago, discovering the Dobu people's culture, snorkeling with Manta Rays, and delving into the rich biodiversity and history of Tagula Island.
Day 5
D'Entrecasteaux Islands: Experience the island's geothermal wonders, snorkel in vibrant underwater ecosystems likened to "swimming in champagne," and delve into the cultural significance of Dobu Island.
Day 6
Trobriand Islands: Dive into the untouched Trobriand culture, witness traditional dances, explore their renowned ebony carvings, and snorkel vibrant coral reefs teeming with marine life.
Day 7
Woodlark Island: Traverse an island of contrasts, where unique biodiversity meets mining prospects, experience local culture, and search for the island's unparalleled wildlife, including the endangered Woodlark Cuscus.
Days 8
Bougainville Island: Explore the isolated beauty of Bougainville, boasting rich biodiversity both on land and underwater, and immerse yourself in its unique culture intertwined with the Solomon Islands.
Day 9
Dive into the volcanic New Georgia Islands, encountering unique bird species, snorkeling WWII plane wrecks, and appreciating renowned local carvings.
Day 10
Discover Tetepare Island's significant conservation efforts and dive into the vast Marovo Lagoon, the world's largest saltwater lagoon teeming with marine wonders.
Day 11
Explore Malaita's untouched beauty and engage deeply with the traditional Kwaio People, an experience made possible by sustainable community ties.
Day 12
Delve into the cultural heart of Makira, touring the serene Star Harbour, mingling with villagers, and witnessing traditional surfing on hand-carved boards.
DayS 13
Explore Nendö, learn about its historical Spanish ties, witness red feather money creation, and partake in age-old local dances.
Day 14
Experience the enchanting Torres Islands, be welcomed by local warriors, and marvel at the ceremonial dance with vibrant, ephemeral temēt headdresses.
Day 15
Dive into Espiritu Santo's captivating history, swim at Champagne Beach, explore iconic blue holes, and delve into Luganville's rich past.
Day 16
Discover Ambrym's volcanoes and magic, witness the traditional Rom dance, explore its lush forests, and enjoy a last snorkeling adventure.
Day 17
Conclude the voyage at Port Vila, with transfers to central city accommodations or the airport.
---
What you'll see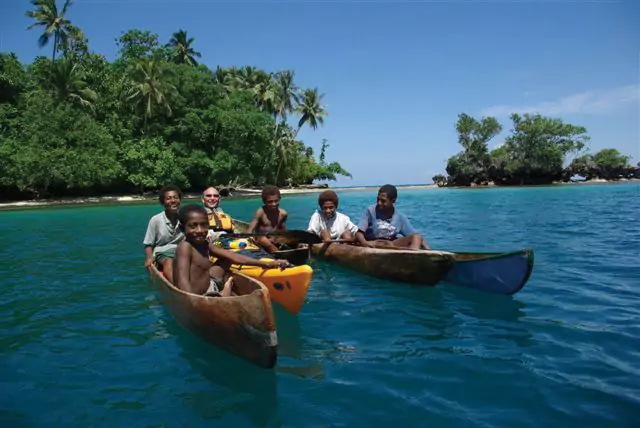 Trip Enquiry
Contact our office to ensure that the trip you have selected is available. Or any other queries below.
Already Made up your mind?
Subscribe
to stay in the loop with new trips and exclusive offers
Kayak Journeys around the world